19 New York Start-Ups
I was on the job market for the past couple of months and I took a very expansive approach to the search, taking an average of 5 networking meetings per day, every day, with essentially anyone who would meet with me. And in every meeting I would ask the same question: "What's going on in New York that's really cool and exciting?" And you know what, there's lots of...
Ecommerce Media Plans Lure Ari Paparo To... →
My Q&A on AdExchanger about the opportunities at the intersection of ecommerce and media.
Joining Bazaarvoice as SVP Media Products →
AllthingsD covers my new gig. Official press release here. 
Ad Tech IPO Voting on Digiday →
Following up on my blog post yesterday, Digiday is running a poll asking readers to vote for the most likely company to IPO. AppNexus and Criteo were leading the votes last I checked.
2013 Ad Tech IPO Predictions
Everyone loves a public offering! It's a coming out party for your favorite company, a liquidity event for your shareholders, and a fun opportunity to dress up and ring a bell. Within the ad tech sector there are a surprisingly large number of companies talking about going public in 2013, so here's a handy preview of the year to come based solely on my unbiased opinions*. Let me know...
A Modest Proposal on 'Viewable' Ads
This article originally appeared in AdAge on November 29, 2012. One the hardest decisions to make as a product manager is whether a feature is really ready to launch. Which brings me to the ongoing drama around the IAB's push to for display advertising to use "viewable impressions" to replace impressions as the currency for online display advertising. In short, viewable...
The Steve Jobs of...
Following up on yesterday's tweet about the Steve Jobs of Yogurt, I was wondering how many Jobsian folks there were out there. Turns out Steve's genius was hardly unique, nor confined to the area of personal computers and communication. Some quick results from Google: Hamdi Ulukaya, the Steve Jobs of Yogurt Jerry Garcia, the Steve Jobs of Rock 'n Roll Peter Carl Faberge, the...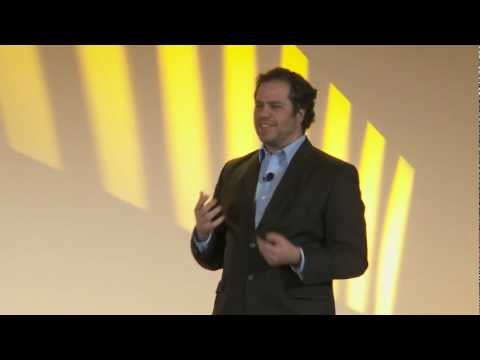 Should You Use a 2x2 Matrix?
Internet Advertising for Kindergarteners (Part 2)
In my first post I described an exercise to explain Internet advertising to my son's kindergarten class. That lesson really on the mechanics of how the ads got to the pages and how the web, in general, works. The next step was to explain how advertising itself works. The kids know what advertising is. I wish I had videotaped their descriptions ("it's when they try to trick you...
Internet Advertising for Kindergarteners
My five year-old's kindergarten class is studying jobs and they asked parents to come in and explain what they do for a living. I jumped at the chance, but then reality sunk in. The little tykes wouldn't really get the "Luma Slide" and an explanation like "I build high frequency trading platforms for real time advertising" probably wouldn't work too well...
Two Quick Predictions for 2012
I didn't do predictions in 2011 and wasn't going to in 2012, but two big trends seem pretty evident and worthy of prediction. First, in 2012 you're going to hear some major publishers claim they are making more revenue from online video than from online traditional ("banner") advertising. It will probably start with pubs in the viral/comedy video space, or any type...
Making Rich Media Scale
This article originally appeared on the AppNexus Blog on August 1, 2011. In my recent Ad Age piece on the disruptive nature of RTB technologies I took some shots at the rich media business. Specifically, I called it a "tech hairball". Of all the points in the article, the rich media comments got the most feedback so I want a chance to explain exactly my criticism. First, some brief background....
Don't Look Now: Classic Disruption Is Taking Place...
This article originally appeared on AdAge.com on July 22, 2011. Real Time Bidding is the hottest technology in online advertising, and with good reason. By connecting buyers and sellers in real-time, on an impression basis, RTB has enabled an explosion of technology, experimentation, and measurement, resulting in improved results for buyers and yield for sellers. But even with the hype cycle in...
Q&A: Ari Paparo of AppNexus on real-time bidding... →
no|wrap.de - Flasm →
auto-decompile SWFs
Disruptive Innovation in Advertising: My Byline in... →
Chrome Waiting on Cache Error on Mac Solution
For the past three months my Chrome browser has occasionally crapped out and stopped loading any pages at all while displaying the infamous "waiting for cache…" status message. The only fix that consistently works is to delete the cache from the tools menu, but this process can take 15 minutes to a half hour. Some message boards recommend killing the cache files directly, but...
"Even with today's "superphones" capable of video, local, and..."
– My article at ClickZ on opportunities for ad networks in mobile: http://www.clickz.com/clickz/column/2076923/mobile-food-networks
10 Biggest Lies of Online Advertising
The other day I tweeted about the most common come-on in online advertising, that integration of some new behavioral/widget/toolbar/bullshit service would be as simple as "one line of Javascript". And it's true, that you can implement a service that will deplete your business model, annoy your users, and destroy your user experience with jut one line of Javascript. With that in...
Facebook as Leader in Display
Earlier today I tweeted my displeasure over the misleading headlines making the rounds that Facebook accounted for 31% of online display market share. A lot of fellow tweeters agreed or disagreed so I thought I would explain. First, let me say this is not a disparagement of Facebook or their ad platform. While I was at Nielsen I worked closely with Facebook and there are some interesting studies...
I now support full marriage equality - Louis J.... →
I really came to understand that gays and lesbians were just real people who wanted to live real lives and be treated equally as opposed to, for example, wanting to destroy American culture. No, they didn't want to destroy American culture, they wanted to openly particulate in it. I was well on my way to becoming a supporter of civil marriage equality.
"The Digital Video Committee is now taking another look at VAST and VPAID and,..."
– VAST and VPAID Update in Which We Chase a Chicken - IABlog
ormma →
ormma.org is an attempt to open source a standard for mobile rich media ads. If only the web were as standardized as mobile!
"At this point, it's worth remembering that the NYT paywall is really, at heart,..."
– Why The New York Times Will Lose to The Huffington Post | Epicenter | Wired.com
The 15 Most Depressing Foursquare Mayorships:... →
"These sites festooned with social media buttons—they look like primitive..."
– Nick Denton on Gawker Redesign: Only Facebook Matters | The New York Observer
Revenue vs Profit
Do you care about revenue or profit? Answer this question and I'll tell you if you belong at a start-up or a big company. Your quick response is enough to judge. "Real" businessmen will always be on the profit side. What's the point of business if there's no profit? And what's the value of a business if not the discounted cash flows (profit in cash form)? Yet,...
The Dark Matter of Status Updates
One of the best sources for insights about product development comes from observing how your users avoid using your product. It is often a huge shock to a product manager when they sit next to a loyal user or paying customer and watch them do something totally bizarre in order to work around a perceived shortcoming you never knew about in the first place. Some examples: Since Twitter...
"Google has been hands down the best acquirer of web services. YouTube, Android,..."
– A VC: The Independent Web
This Tumblr Blog is UNDEAD!
Update as of Jan 2011: I'm Back. Keeping MovableType updated proved virtually impossible (if anyone knows what a ".Lips" directory is, please let me know).  For links to the archives to my old blog, go to my new Ari Paparo Dot Com homepage. Old Post: About a year ago I found that I was using Twitter as my primary blogging mechanism and only occasionally updating my long-form...
Him: There's no proof we landed on the moon. Me: I don't think you know the definition of "proof".
Convinced the kids that the Saturday after Thanksgiving is "Self-Sufficiency Day" (Yay!), where kids around the world look after themselves
For the record, the proper tool for a TiVo that won't give you back a DVD is a hammer. Screwdriver or Allen wrench: too subtle.
Too early for leftovers? Maybe just some stuffing…
Baby has toddler's underwear on her head. Comic genius.
Holy shit that's a big sweet potato.
Considered brining the turkey, but decided it was too much work and am watching Lost instead.
My cab just played chicken with a bus and won. However, I crapped my pants.
RT @doubleclick: Google to acquire Teracent. Welcome Vikas, Chip, and the rest of the team! http://bit.ly/82saDv
Forgot kid's lunch at home but remembered to pick up Starbucks for myself. Time to call protective services.
What's a worse sign, that you run out of vermouth, or you decide that you don't really need it anyway?
High class? Now BI is really full of it. http://www.businessinsider.com/low-level-hah-ari-paparo-rules-2009-11
Gartner wonders what happened to Atlas? http://blogs.gartner.com/andrew_frank/2009/11/19/will-microsoft-exit-the-ad-server-business/